Dr. Brigham B. Redd
M.D.
Dr. Brigham B. Redd grew up in Utah as the second of 15 children. Now living in beautiful Idaho Falls, he is the happy father to seven children, husband to an incredible woman, and enjoys playing and coaching soccer. In medical training, he was once told to "treat each patient as family." A family man at heart, this statement struck Dr. Redd deeply and he continues to apply this family-centric ideology with each of his patients.
Although he was raised in Utah, Dr. Redd was born in a US Military hospital in Germany, and he continued the family tradition of military service by spending 19 years in the US Army. During his last 10 years of service, Dr. Redd served as an active duty doctor and orthopedic surgeon. While deployed during 2006-2007, Dr. Redd spent seven months in Iraq treating courageous soldiers and Iraqi civilians who were injured. He performed hundreds of life-saving surgeries on American soldiers prior to them being sent home to the states.
As a graduate of George Washington University Medical School, with more than 10,000 hours of surgical experience in the operating room, you can be assured his skills are exceptional. In addition, he completed a Fellowship program in arthroscopic surgery and joint replacement to complement his broad experience in general orthopedics. Because of his knowledge, experience, and skills, he can provide his patients with top quality care.
He works to develop a partnership with his patients. On his part, this begins with listening. One of the most important things he needs to know is how the physical problem affects the patient's life. He develops a dialogue, through which his patients understand the diagnostic process, their own unique problem, their treatment choices, and the recovery process.
Dr. Redd began his education at Brigham Young University in Provo, UT, and graduated in 1995 with a bachelor's degree in Russian. He then earned his medical degree at Ohio State University, where graduated with honors in 1999.
After graduation, Dr. Redd received specialty training in orthopedic surgery at the William Beaumont Army Medical Center/ Texas Tech combined residency program. Dr. Redd also received additional training in pediatric orthopedics at St. Luke's Medical Center in Phoenix, AZ. After his time in Arizona, Dr. Redd furthered his training in joint replacement and reconstructive surgery at the world-renowned Rush Presbyterian Hospital in Chicago, IL. At Rush Presbyterian Hospital, Dr. Redd learned from some of the premier orthopedic surgeons in the world who specialized in hip and knee replacement surgeries.
The OMNIbotics® Advantage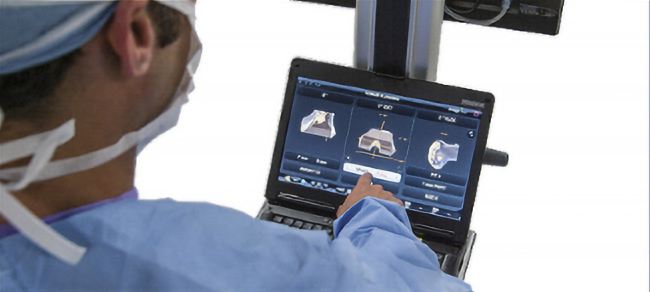 Dr. Brigham Redd is leading the way as the only orthopedist in Idaho Falls to offer OMNIBotics robotic-assisted knee surgery.
Learn more about this innovative procedure here.
Dr. Redd is leading the way in robotic-assisted knee surgery in Idaho Falls as the only orthopedist to offer OMNIBotics technology. Learn more about this innovative procedure here: OMNIBotics.
For the last eight years, Dr. Redd has been practicing orthopedic surgery in Idaho Falls. During this time he has been highly active in the community through volunteering with scouting, serving on the Bonneville youth soccer league board, and coaching soccer year round.
In his medical practice, Dr. Redd treats many different orthopedic needs ranging from arthritis to sports injuries to pediatric injuries. Dr. Redd finds fulfillment and great joy in helping each individual patient overcome their injuries and pain through the best methods available. As Dr. Redd strives to help each patient return to a healthy life, he endeavors to communicate openly and honestly, and above all, to treat each individual like family.